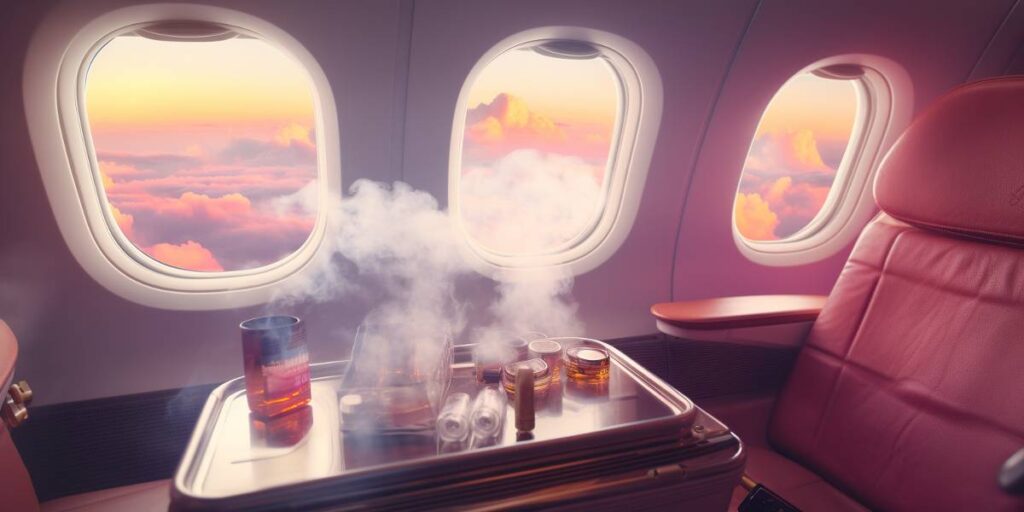 Vaping has gained popularity in the past few years, bringing along a new set of rules and regulations. Many vapers often ask, "Can you take vapes on a plane?" This article aims to answer that question and guide you on how to successfully travel with your vape on a plane without any hitches. So, if you are wondering what happens if you put a vape in a carry-on, keep reading this article.
How to Bring Your Vape On A Plane
Contrary to some beliefs, the answer to the question "Can you bring a vape on a plane?" is yes. But there are restrictions. According to the Transportation Security Administration (TSA) regulations in the United States, you can bring a vape pen or electronic cigarette on board in your carry-on luggage, but never in checked baggage. This is due to safety concerns relating to the batteries in these devices. If activated accidentally, they might cause a fire in the cargo hold, which is difficult to control.
To ensure safety, removing the batteries, if possible, is recommended, and storing them in a separate, clear plastic bag. Also, always check with your airline beforehand, as some might have additional rules and restrictions.
Do Airlines Check for Vapes?
Yes, airlines do check for vapes, but not in the way you might think. Airlines do not specifically search for vapes or e-cigarettes during security checks. Instead, they are looking for any prohibited items and safety hazards, which could potentially include vapes, depending on how they are stored.
The Transportation Security Administration (TSA) in the United States allows vapes and e-cigarettes in carry-on bags but not in checked bags. This is due to the potential fire risk associated with the lithium batteries used in vapes. If a vape accidentally activates in the cargo hold, it could cause a serious fire.
When going through security, it's best to remove your vape from your carry-on bag and place it in the provided bins, similar to what you would do with a laptop or tablet. This allows security personnel to see the item easily and prevents unnecessary searches of your bag.
If traveling internationally, you must check your destination country's specific vaping rules and regulations. Some countries may have different restrictions or even outright bans on vapes. Therefore, understanding the laws of your destination will ensure a hassle-free travel experience.
How to Bring Your Vape Juice on a Plane
Vape juice, also known as e-liquid, is also allowed on planes. But there's a catch. It must adhere to the TSA's liquid rule, which states that you can carry up to 100 ml of liquid per item in your carry-on. Larger amounts should be packed in checked luggage. Keep your e-liquid in a clear plastic bag separate from other liquids to prevent leaks and ease the security check process.
While you can bring a vape on a plane, vaping onboard is strictly prohibited. The FAA regulations in the US, for instance, categorize electronic cigarettes as a prohibited smoking device. What happens if you vape on a plane? You risk facing fines, getting banned from the airline, or even legal charges in some extreme cases. It's best to wait until you're in a location where vaping is allowed.
Why Is Vaping Not Allowed on Planes?
Vaping is not allowed on planes primarily for safety reasons, much like traditional smoking. The prohibition is rooted in two significant factors: fire safety and air quality control.
Firstly, e-cigarettes and vape pens operate by heating a coil that vaporizes the e-liquid. These devices are powered by lithium-ion batteries, which can potentially overheat and cause fires. In an enclosed space like an airplane, even a small fire can lead to a catastrophic situation. The risks are even higher in the cargo hold, where a fire would be harder to control, so vapes are prohibited in checked luggage.
Secondly, vaping affects the air quality in the cabin. The aerosol or "vapor" produced by e-cigarettes contains the intended nicotine, flavorings, and various other chemicals. In the confined space of an airplane cabin, these can easily circulate and potentially cause discomfort or health concerns for other passengers, especially those with respiratory issues.
Besides these safety concerns, allowing vaping on planes could encourage traditional smokers to light up, leading to confusion and potential confrontations. As such, for all passengers' safety, health, and comfort, vaping on planes is strictly prohibited.
Can You Vape at the Airport?
Are vapes allowed in airports? Yes, but it depends on the airport. Some airports have designated areas where you can vape, usually outside the terminal. Still, many airports do not allow vaping inside the terminal buildings. It's advisable to check the rules of the specific airport you're traveling from or to before vaping.
Can You Buy Vape Juice and Replacement Coils Abroad?
While you may want to stock up on vape juice and replacement coils before your trip, sometimes bringing enough for your entire journey is impossible. Fortunately, you can buy vape juice and replacement coils in many countries abroad. Yet, the availability greatly depends on the country's vaping laws. In some areas, vape stores are prevalent, while in others, vaping supplies might be scarce or even banned. It's important to research before you travel to ensure you have all the necessary supplies.
Always Learn the Local Vaping Laws Before You Travel
When it comes to vaping, knowing the local laws in your destination is essential. Some countries have strict rules about vaping or even ban it altogether. Therefore, it's crucial to research beforehand to avoid running afoul of the law. Remember, what happens if you put a vape in a carry-on or vape in an airport depends on where you are and the local laws.
In conclusion, traveling with your vape can be a smooth experience if you adhere to all the regulations set by various authorities and airlines. The guiding principle is to always research and understand the specific rules for your airline, the airports you will be traversing, and the countries you will be visiting. In other words, your ability to bring your vape on a plane, vape at the airport, or even buy vape juice and replacement coils abroad hinges largely on your knowledge of the local vaping laws. What may seem like a standard rule in your home country could be a significant violation in another. 
As vaping enthusiasts, respecting these rules and promoting responsible vaping etiquette ensures we contribute positively to the global vaping community. Ultimately, awareness, respect for rules, and responsible vaping are your best companions when traveling with your vape. Happy vaping, and safe travels!